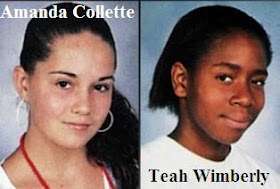 Teah Wimberly was a fifteen year old teen killer from Florida who would murder Amanda Collette
According to court documents Teah Wimberly and Amanda Collette were two students at Dillard High School in Fort Lauderdale Florida. Wimberly had a a crush on Amanda Collette and when her feelings went ignored Wimberly would shoot Amanda in the back at the high school causing the teen's death
Teah Wimberly was arrested, convicted and sentenced to twenty five years in prison
Teah Wimberly Videos
Teah Wimberly Now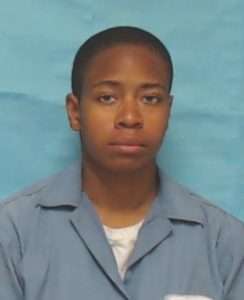 | | |
| --- | --- |
| DC Number: | L85114 |
| Name: | WIMBERLY, TEAH |
| Race: | BLACK |
| Sex: | FEMALE |
| Birth Date: | 09/30/1993 |
| Initial Receipt Date: | 03/31/2010 |
| Current Facility: | LOWELL ANNEX |
| Current Custody: | MEDIUM |
| Current Release Date: | 12/03/2033 |
Teah Wimberly Case
Convicted Dillard High School shooter Teah Wimberly was sentenced to 25 years in prison Friday for gunning down a fellow student because of unrequited love.
In court, the 16-year-old convicted murderer issued an apology to her victim's mother, as well as to her own family, that made many of the people listening weep.
"I make myself physically sick with disgust," Wimberly said. "I will never forgive myself for what I have done, and I don't expect you to forgive me."
Broward Circuit Court Judge John Murphy could have sent Wimberly to a high-risk juvenile facility for six years, as the defense requested, or to adult prison for life.
The judge followed the wishes of prosecutors and imposed a prison term of 25 years.
In December, a Broward County jury rejected Wimberly's insanity defense and convicted her of second-degree murder for the November 2008 shooting death of Amanda Collette, 15.
On Friday, Wimberly, her hands trembling, unfolded a piece of yellow, lined paper and read a missive of apology, remorse and self-loathing to Collette's mother, Joyce.
Dear Miss Joyce, I am so intensely and immensely sorry for what I have done to your amazing daughter, Amanda.
"And I am so sorry that Amanda had the misfortune of meeting and befriending someone like me.
"You have no idea how sorry I truly am …"
Tears streamed down Joyce Collette's face as she sat in a far corner of the courtroom.
Wimberly next addressed her family extemporaneously, her voice catching with emotion.
"Mama, Papa, Grandma, I wanted to apologize for causing you so much grief, so much anger and being such an embarrassment, disappointment and disgrace. I am sorry."
At trial, Wimberly's defense attorney, Larry S. Davis, emphasized his client's turbulent childhood and struggles coping with her emotions. Wimberly sliced her arm with a razor blade more than 90 times on the eve of the shooting.
Wimberly was left to be cared for by her grandparents at 6 weeks old, sexually molested by a family member at age 6, and severely beaten by a mother with bipolar disorder and a father now serving a 25-year prison sentence for attempted murder.
According to trial testimony, Wimberly was shunned by her family when she came out as a lesbian and obsessed over her feelings for Collette. Wimberly lashed out when she felt rejected by her fellow magnet arts student, shooting Collette in the back in a school hallway between classes.
https://www.palmbeachpost.com/story/news/2010/03/26/dillard-high-school-shooter-sentenced/7578662007/