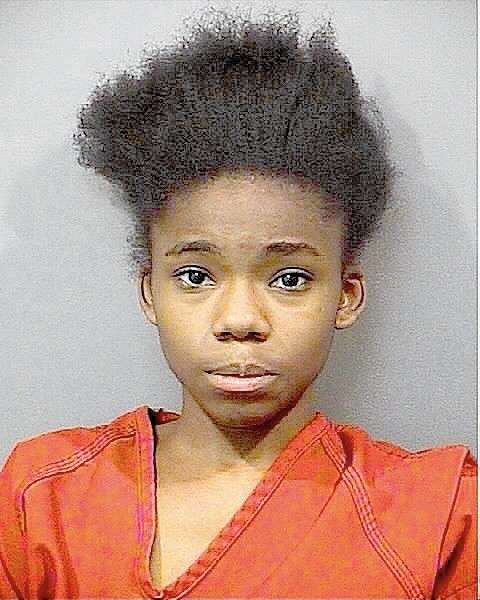 Alyssa Barrett was a seventeen year old teen killer from Indiana who would murder her mother
According to court documents seventeen year old Alyssa Barrett was pregnant and her mother, DeCarol Deloney-Cain, 54, wanted her to get an abortion. However this argument would soon turn deadly as Alyssa and her boyfriend Damarius McGriggs would lure her mother to the basement of the home where she would be struck, a bag placed over her head and repeatedly stabbed and beaten with a hammer
Alyssa Barrett would be arrested, plead guilty and be sentenced to fifty years in prison
Damarius McGriggs would be sentenced to forty years in prison
Alyssa Barrett Now
DOC Number 258638
First Name ALYSSA
Middle Name A
Last Name BARRETT
Suffix
Date of Birth 01/1997
Gender Female
Race Black
Facility/Location Indiana Women's Prison
Earliest Possible Release Date 01/15/2051
Incarcerated individuals scheduled for release on a Monday, Tuesday or Wednesday are released on Monday. Incarcerated individuals scheduled for release on a Thursday, Friday, Saturday or Sunday are released on Thursday. Incarcerated individuals whose release date falls on a Holiday are released on the first working day prior to the Holiday.

Alyssa Barrett Case
Family members of Alyssa Barrett, who pleaded guilty to murdering her mother, expressed forgiveness and love at her sentencing hearing.
Barrett, who was 17 when she was charged 18 months ago with murder in the death of DeCarol Deloney-Cain, 54, was described by her father, Wayne Russell Barrett, as outgoing, fun-loving and very driven.
Deputy prosecutor Michelle Jatkiewicz, however, described Alyssa Barrett as a "manipulative, narcissistic young lady who had everything provided to her by her mother and who wanted her mother done away with."
Jatkiewicz said plea negotiations involved trying to balance the interest of the state and the victim's family against a fair sentence. She argued that Barrett deserves 50 years "pondering what she did to her very own mother, the very person who gave her life."
Lake Superior Court Judge Salvador Vasquez told Barrett, who turned 19 last week, that the case requires soul searching and deep reflection, which could be accomplished while she serves the 50-year sentence outlined in the plea agreement. Under current sentencing guidelines, Barrett must serve 75 percent of that time, or 37.5 years.
Her family, though, remained steadfast in their support.
Although he and his former wife split up shortly after Barrett was born, she grew up "as a normal child," Wayne Barrett said, in a financially stable situation and had a good relationship with her step-siblings.
Around age 13, however, Alyssa Barrett was removed from her mother's home and lived with five different foster families before she moved in with her father, a United Airlines employee like the victim. By then, Alyssa Barrett was showing signs of mental health issues, including what her defense attorneys Sonya Scott-Dix and Derla Gross said was post-traumatic stress disorder and borderline personality disorder. Medication and therapy seemed to help, Wayne Barrett said.
Wayne Barrett said Alyssa's daughter, who was born following her arrest, is in foster care. He pledged his support for his daughter and said she has shown signs of remorse.
Jerome Cain, the victim's husband, challenged Alyssa Barrette. If his wife could be present, he said, she would ask Barrett why committed the crime. "Why? Why would you do this to her, why would you betray her?" Cain said.
After three years in foster care, Alyssa Barrett was released. Cain said his wife begged him to allow Alyssa to return home, and a year later, Deloney-Cain was dead.
Deloney-Cain's brother, Todd Deloney, said they are all hurting.
"We forgive you, baby," Deloney said as Barrett sat between her attorneys, her eyes downcast. "Look at me," he said. "We forgive you."
It was Barrett's pregnancy and Deloney-Cains' desire that Barrett have an abortion that Barrett admitted made her want her mother dead. After letting co-defendant Damarius McGriggs, know of her mother's feelings regarding an abortion, Barrett and McGriggs lured Deloney-Cain to the basement of the family home on July 3, 2014, in the 9400 block of Roosevelt Street, Crown Point. McGriggs struck the woman, put a pillowcase over her head, repeatedly hit her and stabbed her, according to court documents.
Two other men then assisted in disposing of the woman's body, which was found in the trunk of the victim's car that had been abandoned area of 21st Avenue and Mississippi Street in Gary. Deloney-Cains' hands and feet bound and her body wrapped in black plastic bags.
Rogina Smith, Deloney-Cain's cousin and friend, has regularly appeared at court hearings in the case.
"We love DeCarol. We love you, Alyssa," she said. "We have forgiven you. We are not putting the blame on nobody. We want you to get help."
"We are here because your mother, in spirit, is telling us to be here," she said.
Barrett apologized to her family and said her mother was an outstanding person and a great mother who didn't deserve what happened to her. "Every day it hurts," she said. "I am changing and trying to become a better person. I truly am sorry and I hope that one day we can all come together."
Both Scott-Dix and Gross said the case was a difficult one to process and understand from a personal standpoint. Gross noted that an event when Barrett was 13, which caused her to leave the family home, impacted Barrett deeply. "These things don't justify or excuse what happened, but for the record they tend to explain it," Gross said.
Meanwhile, McGriggs, 20, of Merrillville, has pleaded not guilty. A pretrial conference is set for Feb. 17, and his jury trial is scheduled to begin March 14.
https://www.chicagotribune.com/suburbs/post-tribune/ct-ptb-barrett-sentencing-st-0127-20160126-story.html