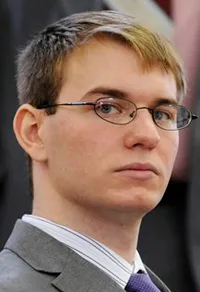 Thayne Ormsby is a killer from Maine who would be convicted of three counts of murder
According to court documents Thayne Ormsby would move into a home, Strout household, that had a bit of feud going with Jeff Ryan. Apparently someone in the household would tell Thayne that Jeff Ryan was a drug dealer, however this was never proven.
Thayne Ormsby would go over to the Ryan residence where he would stab to death Jeffrey Ryan, 55, Ryan's son Jesse, 10, and Ryan family friend Jason Dehahn, 30. Ormsby would steal Jeffrey Ryan pickup truck which he would later set on fire
Thayne Ormsby would be arrested, convicted and sentenced to life in prison. Maine does not have a parole system meaning Ormsby will die behind bars
Thayne Ormsby Now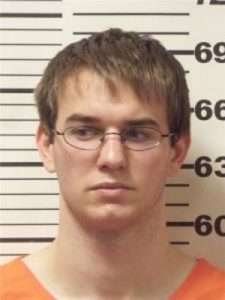 | | |
| --- | --- |
| Status: | Incarcerated |
| MDOC Number: | 101543 |
| Last Name, First Name, Middle Initial: | Ormsby, Thayne Michael |
| Alias or Aliases: | Thayne Orsmby,Thayne Ormsby |
| Location(s) and location phone number(s): | Facility – Maine State Prison |
| Earliest Custody Release Date: | Life |
| Date of Birth: | 4/22/1990 |
| Age (Years): | 33 |
| Weight (Pounds): | 180 |
| Height: | 5 Feet 11 Inches |
| Eye Color: | Blue |
| Hair Color: | Blond or Strawberry |
| Race/Ethnicity: | White |
| Gender: | M |
Thayne Ormsby Case
A Maine man convicted of killing two adults and a 10-year-old boy is going to prison for life.
Thayne Ormsby was given three life sentences – one for each murder conviction – today in Aroostook County Superior Court in Houlton. The judge added a 15-year sentence on top of the life sentences for Ormsby's arson conviction.
Ormsby was convicted in April in the 2010 stabbing deaths of 55-year-old Jeffrey Ryan, his 10-year-old son, Jesse, and family friend Jason Dehahn at Ryan's home in the small northern Maine town of Amity. The jury rejected Ormsby's insanity defense.
Ormsby said he wanted to kill the elder Ryan because he thought the man was a drug dealer, and he killed Dehahn and the boy to eliminate potential witnesses.
Thayne Ormsby Videos
Thayne Ormsby News
An Ellsworth man convicted of murder in the brutal slaying of two men and a 10-year-old boy in Amity in 2010 is trying for a third time to overturn those convictions.
Thayne Ormsby has spent the past decade in prison after a jury found him guilty of murder for stabbing to death Jeffrey Ryan, 55, Ryan's son Jesse, 10, and Ryan family friend Jason Dehahn, 30. All three were found dead in the U.S. Route 1 home of Jeffrey Ryan, about 27 hours after they had been killed, according to police.
The state medical examiner determined each individual had died of multiple stab wounds
Ormsby filed a habeas corpus petition on Sept. 4 in United States District Court seeking to have his convictions for the three murders reversed on the basis that detectives continued interviewing him after he had invoked his right to counsel.
"Mr. Ormsby invoked his right to silence and counsel by saying: 'I'm gonna have to plead the 5th at this point.' 'Perhaps I do need a lawyer?'," Ormsby's attorney Hunter Tzovarras said in the court documents.
Tzovarras contended that police continued to question Ormsby for another three hours following these invocations of his rights; that Ormsby was the focus of the police investigation and was read his Miranda rights at the start of the police questioning him; and that police had told Ormsby that his DNA and fingerprints were found at the scene of the crime.
Maine's Attorney General's Office has petitioned the courts to deny the habeas corpus petition on the grounds that the deadline to file such a motion expired five months ago, according to Assistant Attorney General Donald W. Macomber. The courts have not yet ruled on this motion, Macomber said.
It marks the third such time that Ormsby has sought to have his conviction overturned or his case reviewed.
In June 2012, Superior Court Justice E. Allen Hunter sentenced the then 22-year-old Ormsby to three life terms in prison for the deaths. During his trial, it was said that Ormsby had moved to Orient from Ellsworth in the weeks leading up to the murders to live with Robert and Joy Strout
Court testimony indicated there was animosity between the Strout family and Jeff Ryan because Ryan had once had a relationship with Tamara Strout, Robert and Joy's daughter. Tamara Strout eventually had a child with Ryan. Strout also told Ormsby that Ryan was a drug dealer, which there was no evidence to support.
After Ormsby's conviction, his attorney's James Dunleavy and Sarah LeClaire filed an appeal with the Maine Supreme Judicial Court, arguing that Ormsby's convictions should be overturned based on several factors, including that his rights to an attorney and to remain silent were violated by police and that he was denied a change of venue despite prejudicial pretrial publicity.
The justices found no basis to support the arguments and in October 2013 upheld the convictions.
The case was then appealed to the U.S. Supreme Court, but in March 2014, the court refused to review the case, citing Ormsby's rights to an attorney and to remain silent were not violated, nor was it a factor that he was denied a change of venue because of prejudicial pretrial publicity.
In January 2019, a superior court justice denied a petition to have the courts review and possibly retry his case.
Ormsby's attorney Hunter Tzovarras argued that the state failed to pursue an alternative suspect in the case and that Ormsby's defense counsel was ineffective. In denying that petition for post-conviction review, Justice E. Allen Hunter further wrote that the court found that Ormsby's previous attorneys Dunleavy and Leclaire fulfilled their professional obligations to the petitioner, and that Ormsby had failed in his burden of proving that his trial attorneys had provided ineffective assistance of counsel.