Chloe Thomas was a seventeen year old teen killer from Oklahoma who would murder Anne Hill
According to court documents Chloe Thomas and her sixteen year old Chadd Raymond would lure Anne Hill,16, to an apartment where they would murder and rob the teenager. The teens would then bring the body to a vehicle and dropped it off in a remote location
Chloe Thomas and Chadd Raymond would be arrested and convicted
Chloe Thomas would be sentenced to life in prison
Chadd Raymond would be sentenced to 35 years in prison
Chloe Thomas Now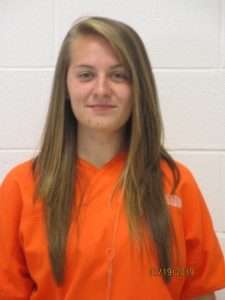 Gender: Female
Race: White
Height: 5 ft 5 in
Weight: 150 lbs
Hair Color: Brown
Eye Color: Blue
---
---
OK DOC#: 756120
Birth Date: 10/13/1997
---
Current Facility: MABEL BASSETT CORRECTIONAL CENTER, MCLOU
Reception Date: 1/31/2017
Chloe Thomas Videos
Chloe Thomas Now
A woman has learned her sentence after being convicted in the 2014 death of a metro teenager.
Chloe Thomas, 19, was sentenced to life in prison with no credit for time served Dec. 22 in Oklahoma County court.
In November, Thomas was convicted of second degree murder in connection to the death of Anne Hill. Hill went missing in April 2014. Court documents show Thomas, then 17, and Chadd Raymond, then 16, were able to get Hill to come over to an Edmond apartment by pretending to be Raymond's older brother.
Once she was there court documents say they began choking Hill. Raymond told investigators after he started to strangle Hill, he got too tired to finish and Thomas took over until she died. The two then put her body in the back of her car and dumped the body. Her remains were later discovered in rural McClain County.
Thomas was initially charged with accessory to murder, but that was later dismissed. Raymond pleaded guilty to first degree murder and accepted a plea deal for his testimony against Thomas.
After a long road, it was a tear-jerking day in the court room as Hill's mother became emotional, saying she misses her daughter everyday.
In her statement, Hill's mother said that Thomas should not be allowed back in society. Thomas became emotional herself, saying she's sorry for the murder.
Darci Parton-Scoon was the Hill family's private investigator and says today is filled with mixed emotions.
"It's the end of a journey and a long one and you get to know and love people over that time and it's both the grief and joy for both of them," Parton-Scoon said.
Hill was set to graduate from Casady High School this past May and Parton-Scoon told FOX 25 how her family wants her remembered.
"Remember the girl who got a scholarship to Casady and who trained her animals to be emotional therapy dogs and spend time to volunteer and do those things," Parton-Scoon said.
An attorney for Thomas says they will be filing an appeal within 10 days.
https://okcfox.com/news/local/chloe-thomas-sentenced-to-life-in-prison-for-murder-of-anne-hill