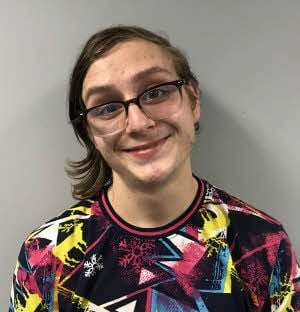 David Vaughn is a killer from North Carolina who was convicted in the murder of Brandon Gibson
According to court documents Brandon Gibson would go over to the home of David Vaughn over a forty dollar debt. Vaughn would open fire striking Brandon Gibson several times causing his death. Vaughn would tell police that Gibson attempted to break into his home
David Vaughn would be arrested, plead guilty to manslaughter and sentenced to five and a half to seven and a half years in prison
David Vaughn Now
| | |
| --- | --- |
| Offender Number: | 1690085 |
| Inmate Status: | ACTIVE |
| Gender: | MALE |
| Race: | WHITE |
| Ethnic Group: | NOT HISPANIC/LATINO |
| Birth Date: | 06/13/2003 |
| Age: | 20 |
| Current Location: | SCOTLAND CI |
David Vaughn Case
A Cruso teenager is currently sitting in the Haywood County Detention Center with a second-degree murder charge after failing to make a compelling case of self defense.
David Vaughn, 19, was charged with the murder of Brandon Gibson, 45, back in January 2022, when a deep snow had blanketed Haywood County — an element of the case that would later prove critical in the detective work.
The two men had apparently been in a physical altercation earlier in the day over $40 Vaughn owed Gibson for pot, according to a statement Vaughn gave authorities.
Deputies from the Haywood County Sheriff's Office were dispatched to a Cruso home shortly before midnight on Jan. 16, 2022. The caller stated that his grandson had shot Gibson while Gibson was trying to break into their house, according to court files. Sgt. Ryan Smith, Cpl. Morgan Deaver and Deputy Mark Mease responded to the scene.
When they arrived, the caller directed them down steps leading to the basement, which was used as an apartment. Gibson's body laid in front of the door with multiple gunshot wounds to his head, including the front, back and top of his head, according to court files.
The caller also handed Smith a .22 long revolver rifle, which he said was the gun used in the shooting. He added that the gun was Vaughn's and that he used it to shoot rats, according to court files.
Deaver unloaded the firearm, which was fully loaded with nine rounds, six of which were spent.
The caller stated that Gibson had come through the door "yelling and screaming," and Vaughn shot him. Vaughn said he was sleeping in a chair when Gibson "broke in and came at him," according to court documents.
During a later interview with authorities, Vaughn reiterated the story that he had shot Gibson during a break-in. He also stated that the two had gotten into a fight earlier in the day over Vaughn owing Gibson $40 for marijuana.
Vaughn said that during the fight, Gibson had been "getting angry and cursing everyone" before being told to leave. He said that Gibson left and "then came back in, busting in through the door and that's when he shot him," according to court documents.
Vaughn also said that after he shot Gibson, he kicked him to make sure he was dead.
Detective Dustin Toon, who conducted the interview, observed injuries to Vaughn's hands. Vaughn explained he had "purposefully struck trees earlier in the day with his fists because he was angry," according to court files.
On the night of the shooting, there was "at least a foot of snow outside." However, Smith noted in the case file that Gibson's shoes and pant legs were not wet, which seemed to contradict the story of Gibson breaking in.
As part of the investigation, detectives spoke to a woman who was in jail at the time on an unrelated incident. She said that she had spoken to Gibson just three weeks prior, and Gibson told her he was staying at the residence where he was shot.
In July 2022, prosecutors filed a request for safekeeping transfer to another detention center, as "the defendant exhibits violently aggressive behavior that cannot be contained and warrants a higher level of supervision" than the Haywood County jail could provide.
Vaughn is being held on a bond of $502,000. The $500,000 comes from this case, while the $2,000 comes from an unrelated theft charge.
https://www.themountaineer.com/news/fight-lands-cruso-teen-in-jail-for-murder/article_0c65dbe2-d236-11ed-b4b9-677339a05920.html
David Vaughn Sentencing
A Haywood County man who was initially charged with second-degree murder has pleaded guilty to a lesser charge.
Officials say 20-year-old David Vaughn shot and killed Brandon Gibson in January 2022 at a home on Ebb Road.
Last week, he pleaded guilty to voluntary manslaughter.
A judge sentenced Vaughn to at least five years in prison (between 64 and 89 months) and gave him credit for time served (420 days).
https://wlos.com/news/local/haywood-county-deadly-shooting-guilty-plea-prison-sentence-david-vaughn-brandon-gibson-north-carolina